hiring a skip...
Atkinson's skip hire
Our skip hire prices are amongst the most competitive in the North East
For domestic or commercial skip hire you'll find our prices and service hard to beat. We regularly check our skip prices against competitors in Newcastle, Gateshead, Sunderland and Northumberland. Although we hate the words 'cheap skip hire' that's exactly what we offer BUT with great service and responsibly waste management.
Call us now on 0191 469 5227 for expert advice and the BEST PRICES
Fast delivery of your skip
When we agree a delivery time we'll do everything we can to ensure you receive your skip. Whether you're a building contractor clearing a house or it's a domestic landscaping job we know how important it is to have you skip delivered when you need it.
We will take care of your permit
We will advise on whether you need a permit and arrange it for you. Please note that there is a charge for the actual permit but not for our time in arranging it for you.
We handle your skip waste responsibly
We work closely with the environment agency to ensure your waste is handled responsibly and in the most environmentally friendly way possible. If we can avoid landfil we will!
Further information
Different kinds of wastes are produced on a daily basis in each corner of the world. The main contributor of these wastes is humans. In every corner you put your eyes on you will see different products being sold in stores. These products need a specific kind of process to be produced. And this process will produce a certain kind of waste. In the highly industrialised world of today, you will see domestic wastes, industrial and commercial wastes, and demolition and building wastes.
In Australia alone, almost half of all the wastes produced today come from household residencies. 56% of the domestic waste products include food scraps or garden wastes. The remaining percentile can be accounted to paper wastes, glasses, plastic or metals. Industrial and commercial wastes accounts for 350 kilograms of waste per person in each year. The stats are even higher for the UK. This includes wastes from shops, factories, hospitals, and offices. Demolition and building wastes products, on the other hand, consists of metals, timbers, concrete, and other building materials, which claims over a quarter of wastes produced each year.
Proper waste management is encouraged everywhere in the world, and you must be familiar with avoid, reuse, and recycle. This is one way of managing your waste. On the one hand, another way for you to manage your waste is by using skips for hire. Skips for hire are everywhere, and it would be easy for you to order a skip for your household wastes. As you plan for your Christmas party, you should also consider having a mini skip in your place to manage your waste. You can also use mini skips for your garden wastes, your cleanup drive, or your pruning activities. Skip bags may also be useful for other activities, and you should also give time to look at it. When ready, you can always call a skip company to assist you with your waste management process.
The Benefits Of Hiring A Skip
Proper disposal of waste products. As obvious as it sounds, hiring a skip would allow for your waste products to be handled with expertise and professionalism. You can have a mini skip delivered to your desired address and have it filled. As soon as it is filled, you can call back the skip company to have it taken away. Mini skips are useful for wastes that cannot be held by ordinary trash bins.
Ease disposal of waste. This is another obvious reason why you should hire a skip. Disposal of your waste would be easy. It is because of the convenience that it offers that more and more people hire skips to hold their waste products. Skips come with different sizes, and you will surely find the perfect size that can hold your trash. All you have to make sure before ordering a skip is to have a space for it to be placed. If the skip is too bulky for your area, you can consider having a skip bag for your skipping project, instead.
Free transport. There is no need for you to worry about transporting your garbage. A skip company will handle that one for you. Renovating your home or remodeling your garden should produce a lot of rubbish. If you want to save yourself from the hassle of transporting your trash and making your car filthy, you might want to hire a professional skip company to do the dirty work for you.
Safe Waste Disposal. Skip companies are responsible environmentalists. They are in the know of how to dispose properly different waste products that it will not be harmful to the environment, to the people, and to the living organisms in nature. The filled skip from your home will be transported to a processing plant where your waste will be sorted. Recyclable materials, which is 90% of all wastes, will be recycled. The remaining 10% of your waste products will be transported to a landfill.
If you want ease and convenience in relation to handling your waste, it is best that you hire a professional skipper to do the job for you. With a professional skip company, you are assured that your wastes are handled properly, not to mention not getting your hands and your car dirty.
Midi Skip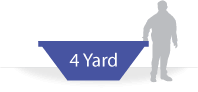 4 Yard (3.08CM)
Width - 4ft 6ins
Height - 4ft
Length - 7ft 8ins
Builders Skip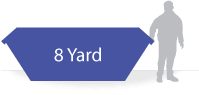 8 Yard (6.6CM)
Width - 5ft 6ins
Height - 4ft 6ins
Length - 11ft 6ins