Atkinson's skip hire and waste management is based in Gateshead, serving Newcastle upon Tyne, Sunderland, Durham and surrounding areas. We are a family run business, providing a great service and the best possible prices. We are ethical and understand the importance of our role in recycling materials to save our planet. This is deep routed in the values of our team. We work closely with the Environment Agency to meet all legislation and regulations. For cheap Skip Hire and waste management to both Domestic and Commercial markets you can rely on us!
how can we help...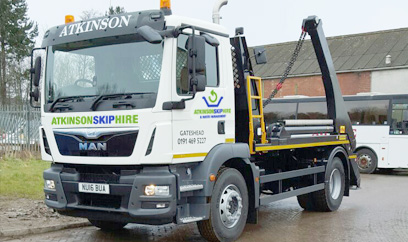 waste management
We collect waste from your household or business
We 'manage waste' to recycle as much as possible
Our objective is to reduce landfill waste
Heavy investors in technology to save you money
Competitive quotes for all registered waste carriers
We work closely with the Environment Agency
Family business dedicated to service excellence

welcome to the family
We take our environmental responsibility seriously and value our customers. We've grown through working hard and putting our customers first.
Our main site is located on the Pelaw Industrial Estate, Gateshead, Newcastle and is a licensed waste transfer facility which is operated by a range of fully trained, experienced personnel.
Yes, we offer everything you'd expect from a waste management company BUT we will always go that extra mile, and do what we can to make our customers happy.
Welcome to our family business - you can rely on us!